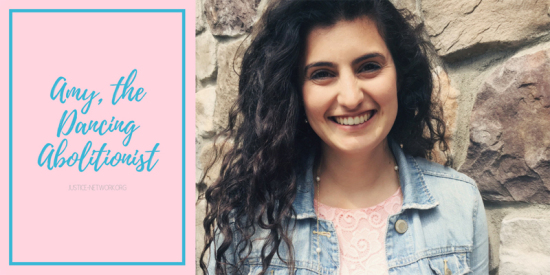 On Saturday, Amy came to tell Justice Network about a trip we supported her on that she took to Mexico. She partnered with the organizations Reintegra, Freedom 58 Project, and Transform Arts (which is part of Cru) to teach dance to young sex trafficking survivors.
Amy works for Transform Arts using her dancing as a way to minister her faith to others.  She got involved with Freedom 58's Faces of Freedom and traveled to Kansas City.  This project is part of a partnership with Agape International Mission. Each piece of art expresses the story of a survivor of human trafficking through.  Amy was able to meet and work with some survivors that came out of trafficking in Cambodia and started to mentor them.  While there, she talked to a woman named Alyssa who hosts trips to Mexico through Reintegra.  It was important for Amy to want to use dance as a restorative art, so she agreed to take the trip with Alyssa.
Mexico City is a large entry city, where a very high majority of those who are targeted and sold within the city are promised entry into the US or to a neighboring country in Central America.  Many dreams are sought out, while abuse is the end result.
When Amy went into Mexico, she was unable to see where the safe house for underage girls was.  This was the organization's way to protect the girls from further harm after coming out of their slavery.  These survivors stay at Camino a Casa shelter.  They house 10 girls; two of them each have a child that stays there as well.   The youngest of the ten was nine years old, though she was younger when rescued.  The oldest was about twenty years old.
Despite the language barrier between Amy and these girls, she could tell that they were having a good time learning how to dance and seemed to enjoy her being there.   She taught them dance routines that involved modern, ballet warm-ups, hip hop, and jazz.  A lot of the girls tired quickly and wanted to rest, but the nine year old seemed to dance hard on the more difficult routines, which helped encourage the other girls to try harder.
Those who are survivors from Reintegra (women in their 20s) often go to visit Camino a Casa in order to encourage them and show them how far they can go.  Reintegra is based in Denver but has a safe house in Mexico City.  A lot of the girls end up having their own apartments and jobs over time.  Amy said that she was able to meet a survivor named Karla who brought along her two children.
Karla's story starts when she was abused at five years of age, and was lured by a trafficker when she was 12.  He treated her really well in the beginning and she ended up even living with him at that time.  After three months of gaining her love and trust, he abused her and sold her for four years.  She had a child with him at 15 and many times her child was used as a threat against her so that she would continue to work.  He abused Karla so badly that he even burned her with an iron, punched her, pulled her hair, kicked her, and spat on her.  Thankfully she was rescued during a raid.  She has since talked at the Vatican and US Congress about her story.  She is getting her GED and says, "My dream is to learn cosmetology and be a business owner of my salon. I also want to help take the blindfold off of people's eyes and let the world know that minors are being abducted, lured, and yanked away from their families. To do nothing puts countless girls at risk of being trafficked for years and raped thousands of times, just as I was."
When Amy returned to Camino a Casa, they did not share their stories with her, as to not make her look at them differently.  She just taught them dance and helped them express any emotions they might have, even to the point where many of them cried while dancing to the Español version of Hillsong United's "Ocean."
On one afternoon, Amy went to see survivors build a career around making jewelry.  One of them had been sold by her own aunt, locked in a closet, and chained up by a man who sold her for sex.
At Camino a Casa, the girls receive schooling and skills that will allow them to one day move up into the Reintegra program.  There is also a boys' safe house nearby.
The joy showed on Amy's face as she would tell us stories about her time in Mexico and how she hopes to go back again sometime.  She had even spent an afternoon hiking and going on a zip line with the girls; having a great time experiencing nature and freedom with them.
We appreciated the time that Amy took to share with us and we look forward to hearing about her future opportunities. Please donate to Reintegra to continue to support the work they are doing for those seeking freedom.